Deadlocked Philadelphia Jury Forces Last Minute Settlement in Catastrophic Case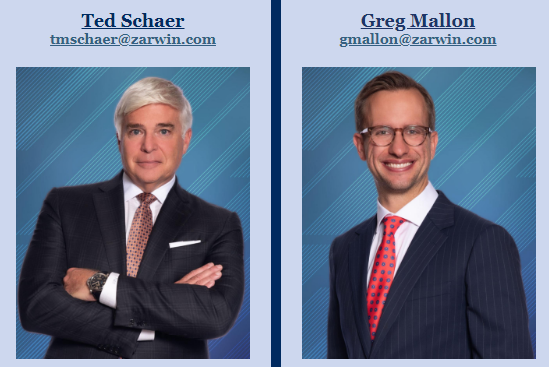 (JUNE 8, 2021) Zarwin Baum attorneys Ted Schaer and Greg Mallon defended a local Fortune 100 Company during a heavily-contested two-week IN PERSON JURY trial in the Court of Common Pleas of Philadelphia. The trial involved horrific injuries incurred by a pedestrian struck by the defendant's vehicle in the roadway. Despite an admission of negligence by the Company, Schaer and Mallon's unique trial strategy caused enough doubt in the Juror's minds to prevent a verdict following 15 hours of jury deliberations on the issues of recklessness, comparative negligence, and damages. The matter was able to be settled on favorable terms after the jury informed the court on two occasions that they were hopelessly deadlocked. This was one of the first large-scale catastrophic injury trials under Philadelphia's strict Covid protocols that required Schaer and Mallon to wear masks, microphones, and sit apart from each other. Despite these logistical obstacles, the Zarwin attorneys were still able to connect with the jury to sufficiently convince, at least a few of them, of the plaintiff's own fault. 
Ted Schaer is the Chair of the Firm's Casualty Defense Department and has made the management and trial of catastrophic cases a significant part of his everyday practice. Greg Mallon is a shareholder at Zarwin and a member of Schaer's Catastrophic and Excess Liability Team. (Zarwin Baum DeVito Kaplan Schaer Toddy, P.C.)

Baumann, Gant & Keeley obtains full defense verdict in wrongful death products liability trial

(May 20, 2021) - Gary Baumann and Michael Pedowitz from Baumann, Gant & Keeley recently obtained a complete defense verdict in a Palm Beach County, Florida wrongful death trial where the Plaintiff asked for $5.6M in closing argument. The facts of the case and trial are as follows:

On March 19, 2019, plaintiff's decedent Arshia Poursartip, 38, a sales clerk, was driving a car eastbound in Palm Beach County when he lost control and struck a commercial flatbed truck in front of him. The truck had underride guard model ICC-PM16K attached to the rear.
Pegah Jones, acting as the personal representative of her late brother's estate, filed a wrongful death lawsuit against Blue Ridge Manufacturing and Rayside Truck & Trailer. The lawsuit included products-liability claims for strict liability, design defect, manufacturing defect and improper installation of an allegedly defective underride guard that caused, or contributed to, Mr. Poursartip's death. The estate's counsel retained a biomechanics expert who opined that if the guard had worked as intended, Poursartip would have only suffered minor or moderate injuries. Plaintiff's counsel further noted that neither defendant did any prior testing of the subject guard.
The estate's counsel also argued that Rayside failed to follow Blue Ridge's instructions for installing the guard. The estate's counsel claimed that Blue Ridge's directions called for the welds to each be three inches. However, per plaintiff's counsel, Rayside's welds were shorter than that.
The defendants maintained that the guard was not defective. The defendants noted that there had been no prior complaints regarding the guard in question. The defendants also contended that underride guards are designed for crashes where the front of a trailing vehicle strikes the back of a truck. The defense claimed that the guard was not meant to address impacts where the side of the trailing vehicle hits the truck's rear. Plaintiff's counsel countered that the side of a car striking the rear of a truck was foreseeable, and that the guard should have thus been designed to withstand that type of impact. The defendants' mechanical engineering expert also opined that the forces of the subject crash greatly exceeded the known tolerance of properly designed underride guards that met required standards. The defense retained a biomechanics expert who opined that it was impossible to tell whether the decedent's fatal injury resulted from a direct impact with the flatbed or from the sudden acceleration/deceleration forces on Poursartip's body during the crash. The expert further opined that Poursartip would have still sustained these forces even if the flatbed truck had an underride guard with the alternative design put forth by the plaintiff.

Plaintiff's counsel argued that a non-defective underride guard would have prevented Poursartip's head from hitting the flatbed.
The estate sought recovery of medical or funeral expenses along with damages for Poursartip's mother's loss of support and services, and her pain and suffering. Plaintiff's counsel asked the jury to award $5.6 million.
The jury issued a defense verdict. It found that there was no negligence by either defendant that was a legal cause of Poursartip's death. The jury also found that neither defendant placed a guard on the market with a defect that was a legal cause of Poursartip's death. (Baumann, Gant & Keeley, P.A.)
Poole Shaffery & Koegle Wins Summary Judgement in Favor of Medical Device Manufacturer
(MAY 14, 2021) - On May 14, 2021, our team successfully obtained another victory by way of summary judgment in favor of a medical device manufacturer. In Jose Riera, et al. v. Mecta Corporation, et al. (United States District Court Central District of California Case No. 2:17-cv-06686-RGK-JC), plaintiffs alleged that they suffered brain damage and resulting long-term and/or permanent cognitive impairment after undergoing electroconvulsive therapy ("ECT") with a device manufactured by our client. Plaintiffs specifically argued that the warnings provided by the manufacturer were inadequate.
We argued in the motion, among other things, that creating a triable issue of fact regarding whether the manufacturer's warnings were inadequate is insufficient to survive summary judgment; a plaintiff must also establish that the purported inadequate warnings actually caused their injuries. For a number of reasons, causation could not be established; however, the dispositive fact for the summary judgment motion was that Plaintiffs failed to create a triable issue of fact as to whether their prescribing ECT psychiatrists would have changed their decision to prescribe ECT had they been provided additional warnings from the manufacturer. Motus v. Pfizer, Inc., 196 F. Supp. 2d 984, 995-96 (C.D. Cal. 2001), aff'd, 358 F.3d 659 (9th Cir. 2004).
California law follows the learned intermediary doctrine. As applied to a manufacturer of a medical device utilized by a doctor in a hospital setting, the manufacturer has a duty to warn physicians, not patients directly. Accordingly, if a physician either ignores, disregards, or confirms that information provided by the manufacturer would not alter their decision to prescribe treatment with that specific device, a plaintiff cannot establish that a manufacturer's purported inadequate warnings caused their injuries.
Ultimately, the Court agreed with our argument that the learned intermediary doctrine applied to the facts of this case and further that plaintiffs failed to create a triable issue with respect to whether their prescribing psychiatrists would have changed their decision about treatment if they were provided additional warnings. Notice of appeal has been filed. - (Poole Shaffery & Koegle, LLP)
Themis Advocate - May 2021
Trust | Value | Innovation

The mission of Themis Advocates Group is to provide the most skilled, aggressive and cost-efficient
legal services to our clients by maintaining a national network of preeminent law firms
that share information, procedures, technology, and client feedback.

---
What to Expect: Changes to OSHA Under the Biden Administration
President Joe Biden has taken a number of actions that indicate an increased focus on worker safety, and increased pressure on the Occupational Health and Safety Administration (OSHA). On his second day in office, the president signed an Executive Order on Protecting Worker Health and Safety directing the OSHA to issue new COVID-19 guidance. He also ordered the agency to investigate whether new standards are necessary and to target enforcement to protect a greater number of workers from COVID-19 hazards. This order, coupled with Biden's nomination of former union leader Marty Walsh as Secretary of Labor, with oversight for OSHA, and the Obama-Biden administration's pro-labor history, portend an aggressive and robust enforcement of workplace safety. Learn more

Source: Sheehy, Ware & Pappas P.C.
---
Mileage Down, Vehicle Deaths Up:  The Untold COVID Death Toll!
When the COVID 19 pandemic began, millions of Americans were forced to begin living a "new normal" where they were staying home more and driving less. Logically, this "new normal" should have decreased the number of motor vehicle accidents along with the number of catastrophic and fatal accidents.
However, recent data suggests that this is not the case. Despite the significant decline in miles driven in 2020, there was a significant increase in the number of fatalities from motor vehicle accidents. The National Highway Safety Administration ("NHTSA") reports that fatalities arising from motor vehicle accidents rose about 30% during 2020. The National Safety Council reports that nearly 42,000 people died because of motor vehicle accidents in 2020, representing the largest tally in 13 years. The National Safety Council reports that while miles driven per vehicle decreased about 13% in 2020, the mileage death rate was up 24%. Learn more

Source: Zarwin Baum DeVito Kaplan Schaer Toddy, P.C.
---
Anticipated Prejudgment Interest in Illinois
On March 18, 2021, the Illinois Legislature passed a bill to amend 735 ILCS 5/2-1303 to require prejudgment interest on all personal injury and wrongful death matters in which a judgment is entered for the plaintiff. This bill is expected to be signed by Governor Pritzker and become effective on July 1, 2021. The amendment requires prejudgment interest at a rate of 6% per annum. The prejudgment interest begins to accrue on the date the action is filed, but does not apply to punitive damages, sanctions, statutory attorney's fees, or statutory costs. The bill also does not apply to public entity defendants.
Source: Cassiday Schade LLP
---

---
Supreme Court of Ohio Appoints Gallagher Sharp Partner Monica A. Sansalone
Chair of the Lawyers' Fund for Client Protection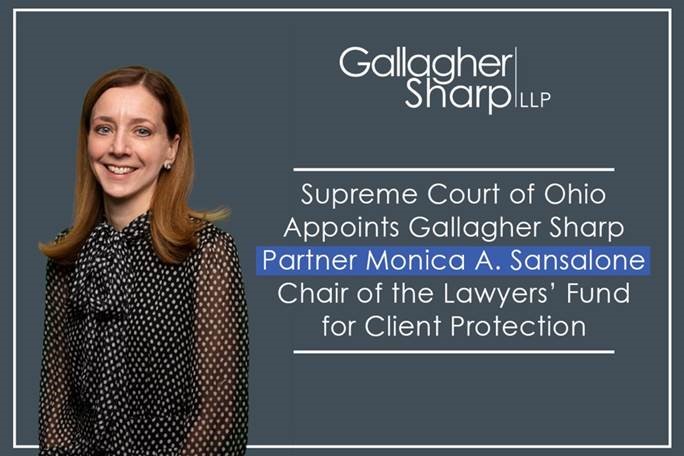 Gallagher Sharp LLP is extremely pleased to announce that the Supreme Court of Ohio has appointed Partner Monica A. Sansalone as Chair of The Lawyers' Fund for Client Protection. The Fund was established by the Supreme Court of Ohio in 1985 to restore public confidence in the legal profession by providing financial reimbursement to victims of dishonest lawyers. Learn more
Source: Gallagher Sharp LLP
---
Gallagher Sharp is Pleased to Announce Maia E. Jerin as its Newest Partner

Maia represents clients in complex commercial and professional liability disputes, with a particular emphasis on legal and real estate professional liability.  She is actively involved in the firm's legal malpractice and attorney discipline practice, where she represents small practitioners to large law firms.  She also defends businesses, employers, and managers against claims of discrimination and ADA violations in state and federal courts and before administrative agencies. She is a frequent presenter on a variety of legal ethics topics, focusing often on the use of technology in the law. Learn more

Source: 
Gallagher Sharp LLP
---
Lederer Weston Craig Announces Alexandra C. Galbraith Has Joined Its Firm
Lederer Weston Craig announces that Alexandra C. Galbraith has joined its firm as an associate attorney in the firm's West Des Moines office. Alex practices civil litigation, with a focus on commercial litigation, tort defense, and insurance defense. She is licensed to practice law in Iowa and Illinois.

Alex earned her J.D. from the University of Iowa College of Law in 2016. While in law school, Alex was an Articles Editor for the Iowa Law Review, a student advocate at Iowa Law's Supreme Court Day, and a member of the National Moot Court Team. Learn more

Source: Lederer Weston Craig, PLC
---
Perrier & Lacoste Announce New Partner, Cory Stuart
We are honored to announce that Cory Stuart has been promoted to Partner. Since joining P&L, Cory has shown that he can handle any task or case thrown at him with confidence and a high level of skill.  Cory has taken on an increasing case load and continues to get great results for our clients. We are fortunate to have Cory as a part of our team.  Please join us in congratulating Cory on his achievements.
Source: Perrier & Lacoste, LLC

Perrier & Lacoste Announce New Associate, Megan B. Jacqmin



Perrier & Lacoste, LLC welcome Megan B. Jacqmin to the firm as P&L's newest attorney. Megan has a Bachelor's of Arts in Political Science from Louisiana State University where she was also on the Varsity Soccer Team. Additionally she received her Juris Doctor from Loyola College of Law graduating Cum Laude.


Megan has experience managing large insurance defense and plaintiff litigation caseloads focusing on premises liability, personal injury, employment discrimination, and many more areas of law. She has provided professional legal services to her clients through case investigation and analysis, drafting and responding to discovery, drafting pleadings, conducting depositions and negotiating settlements/appearing for trials.
Source: Perrier & Lacoste, LLC

---
---
Perrier & Lacoste Litigation Team Obtained Unanimous Defense Verdict on Liability Following a Jury Trial in Orleans Parish Civil District Court 
The Perrier & Lacoste litigation team of Ralph Aucoin, Jr. and Guy Perrier obtained a unanimous defense verdict on liability following a jury trial in Orleans Parish Civil District Court.
The case involved a commercial truck driver operating an 18-wheeler attempting to make a wide right turn in an industrial area. Plaintiff argued that his vehicle was struck when the commercial driver made a right turn from the left hand lane. Plaintiff's testimony was supported by an independent witness who testified via Zoom and in uniform as he is a currently deployed member of the Louisiana National Guard. The defense team was able to point out enough inconsistencies between the Plaintiff's version of events and the independent witness to discredit their testimony.
Plaintiff alleged injuries to his neck and back with treatment including a lumbar radiofrequency ablation, and five bilateral lumbar transforaminal epidural steroid injections. Past medical expenses totaled over $100,000.00. Recommended future medical treatment included 2-3 injections per year for 4-5 years followed by a recommended lumbar fusion surgery. Estimated future medical expenses averaged $425,000.00. Plaintiff sought in excess of $2.1M in total damages.
After deliberating for approximately one hour, the jury returned a unanimous verdict finding the Defendants completely free from fault.
Source: Perrier & Lacoste, LLC
---
Kent Gummert of Lederer Weston Craig, PLC Recently
Tried a Civil Case in Dallas County, Iowa
Themis member Kent Gummert of Lederer Weston Craig, PLC recently tried a civil case in Dallas County Iowa. The case was somewhat unique because it was tried under full COVID protocols with all attorneys, court personnel, parties and jurors wearing masks and separated by plastic dividers or spread throughout the court room. The jury actually deliberated in the courtroom which made for an awkward and hasty exit by the parties and attorneys after closing arguments.
It was also unique in the severity of the accident but the rather modest injuries to the Plaintiff. The defendant who was driving a large pick up, rear ended the Plaintiff's sedan at close to highway speeds. The Plaintiff was stopped to make a left turn and was waiting for oncoming traffic. The force of the impact pushing the Plaintiff's sedan into oncoming traffic where she was struct a second time on the passenger side of the car. The Plaintiff's vehicle was then pushed through a ditch and into a corn field. Learn more

Source: Lederer Weston Craig, PLC
---
Baumann, Gant & Keeley, P.A. Partner, Elizabeth White
Obtain Final Summary Judgment
Baumann, Gant & Keeley, P.A. Partner Elizabeth White obtained Final Summary Judgment in a wrongful death dram shop case in Miami-Dade County, Florida. The case was well publicized and also included a catastrophic injury claim for a survivor of the accident. Elizabeth was able to convince the Court that the Plaintiff's could not meet their evidentiary burden under Florida's Dram Shop statute. A terrific result in a very difficult venue!  

Source: Baumann, Gant & Keeley, P.A.
---
Jeannine Davanzo and Krystina Maola 
Obtain Summary Judgment in Products Liability Case in Kings County 

| | |
| --- | --- |
| | |
|       Jeannine Davanzo |          Krystina Maola |
Following six years of contentious litigation, Jeannine Davanzo and Krystina Maola, obtain summary judgment in favor of GVK's client, a healthcare products manufacturer, in a products liability and negligence lawsuit filed in Kings County, New York. The plaintiff alleged that he sustained injuries after he slipped and fell on water he claimed was emanating from the client's ultrasonic cleaner during his employment at a hospital. The cleaner had undergone routine preventative maintenance pursuant to a contract with the plaintiff's employer approximately one month prior to the plaintiff's alleged accident, which showed no water leaking or other issues. Learn more
Source: Gallo Vitucci Klar LLP
---

---
Ava Maynard Successfully Defends "Open and Obvious"
Decision in the Second Department
The Appellate Division, Second Department unanimously affirmed the lower Court's decision granting summary judgment to GVK's client, a paving contractor. Plaintiff-Appellant, a pedestrian, tripped and fell on a chain that was suspended approximately 4-5 inches above ground between two posts.

GVK successfully argued in the Supreme Court, Kings County that the paving contractor had no liability under the Espinal doctrine, as it was an independent contractor that did not launch a force of harm. It was argued that the paving contractor had no obligation to maintain the chain under its contract with the property owner and was not the entity that actually placed the chain. In addition, GVK argued that, since the accident during daylight and was readily observable by the reasonable use of one's senses, the chain was open and obvious and not inherently dangerous. Learn more
Source: Gallo Vitucci Klar LLP 
---
 Sponsor Contributed Articles
---
Technology Advances Affecting Walking and Driving
The proliferation of mobile technology and its use while performing other everyday tasks has become increasingly widespread. It is now commonplace to use a mobile device while engaging in other, often safety-critical, activities, such as driving and walking. Think about how often you have observed a driver or pedestrian staring at or talking on a cell phone or some other mobile device while driving or walking. Decades of research have demonstrated behavioral detriments associated with distracted driving (e.g., slower reaction times, poorer visual scanning). Approximately a quarter of automobile accidents are associated with cell phone usage.[1] Further, most states have some regulation limiting mobile device use while driving.

Figure 1.
Participant texting in 

their motion capture laboratory 

with eye-tracker.
More recently the effects of distracted walking have garnered increased attention. In 2015 the National Safety Council added distracted walking to its annual report of unintentional deaths and injuries[2] and there have been many reports of the media about people walking into or tripping over objects and falling off train platforms while using mobile devices. These have led to serious injuries and deaths – for example, a man fell off a cliff while taking a photo with his phone.[3]  Learn more

Source: Exponent
---
Cyber Currency and the Great Double Dip

As the 'gig' economy goes into overdrive due to COVID layoffs, employee behavior regarding Cyber and Crypto Currency has made a dramatic shift in a surprising direction. While you may assume that investing in bitcoin is on the rise, but that's only a small part of the story.
Crypto Currency is being used as a method of payment for persons on unemployment insurance or who have an open worker's comp claim. Because Crypto Currency is outside of the original employer's payroll system, injured workers can receive a full income stream from the gig economy while receiving benefits on a claim. The most popular apps for these cash exchanges include CashApp, Venmo and Zelle. Bitcoin is just beginning to come on the scene as currency exchange medium. Learn more
Source: Fraud Sniffr Inc.

---
Expert Testimony: The "How To's" for Selecting the Right Digital Forensics Expert

In the field of digital forensics, there is no governing body at the national or state level than accredits examiners is being competent in their field. The industry does not have a bar exam or other system in place to ensure that experts in digital forensics possess even the minimum qualifications necessary to practice in this field. This complicates selecting a digital forensics expert, and the complications multiply when numerous forms of digital evidence are in a case. For example, an expert may be competent in computer forensics, but have no experience in mobile phone or GPS forensics. Learn more

Source: Envista Forensics
---
Looming Collisions 
In many rear-end collisions involving a vehicle that is stopped or moving slowly in the lane of travel, it is common for the driver of the striking vehicle to say that they did not realize the lead vehicle was stopped or moving very slowly until it was too late to avoid the crash. Drivers in these situations likely experienced a phenomenon called "looming."
Human factors experts address the issue of looming in vehicle collision cases to determine whether the driver perceived and responded to the slower moving or stopped vehicle in a reasonable amount of time and whether the driver's actions were a cause of the crash. Learn more

Source: Exigent
---
The Use of Emerging Technologies in Structural Collapse Investigations
The accurate and thorough documentation of existing conditions that exist immediately after a structural failure is critical for the proper analysis and evaluation of failed buildings or building systems. This is even more critical when the failure investigation involves a full or partial structural collapse. Investigation of any structural failure requires meticulous documentation of the condition of the structure in its damaged state; however, such documentation is difficult when dealing with collapsed structures due to a number of factors including, but not limited to, site safety and access limitations. Additionally, there is the potential that additional damage, deterioration, or spoliation of the structure will occur from exposure to weather or even vandalism. Because of this, it is imperative that the documentation of the existing conditions be completed as quickly as possible after the collapse event to prevent degradation of the post-collapse conditions. Thus, given the need to quickly and thoroughly document the conditions along with the need to maintain the safety of the investigators and prevent additional damage, it seems that the forensic investigators are being asked to complete a difficult, if not impossible task. While this was trying in the past, new technologies are making the job of such documentation not only more accurate and thorough, but also increasing safety for the investigators, coupled with reducing the time that it takes to complete the documentation of the failed structure. Learn more 
Source: Envista Forensics 
---
Social Media AI Aims to Foil OSINT Teams
The Artificial Intelligence (AI) inside Facebook, Twitter, and Instagram has fundamentally changed focus in 2021. The good news for insurance is that the new AI has shifted the content users see back to its roots: selfies, personal stories, family photos, documentation of fitness goal achievement and lots of data about peoples' personal lives.
The creepier news is that refinement of the AI presents a "Stepford Wife" user experience where bragging and lifestyle photos are now center stage. The AI is so laser focused on presenting positive, nonpolitical content that individual users' data is more exposed than it has been in years. All the political camouflage for personal data (diluting personal photos inside of a long stream of political posts) is stripped away, leaving pure personal information. Learn more

Source: Fraud Sniffr Inc.
---
Contribute to the Themis Advocate
Do you have a newsworthy article that you'd like to share with your fellow Themis Members? If so, please email your announcements to Themis Headquarters. 
Themis Communications Committee
Chair: Joe Duncan, Clark, May, Price, Lawley, Duncan & Paul, LLC
Committee Members:
Patrick Blake,

Willcox Savage, PC

Dan Folluo,

Rhodes, Hieronymus, Jones, Tucker & Gable, PLLC




James Martin, Mullen, Holland & Copper, PA

Michael Mazurczak, Melick & Porter, LLP

John Tucker, Rhodes, Hieronymus, Jones, Tucker & Gable, PLLC

Ed Wallis, Glassman, Wyatt, Tuttle & Cox, PC

Brian Wood, Lind, Jensen, Sullivan & Peterson
Please also add Themis Headquarters to your press release distribution list.
---
 Themis Advocates Group Committees and Practice Groups
2021 Committees


 

2021 Practice Groups 

Executive Committee
Annual Meeting Committee
Communications Committee
Membership Committee
Mock Trial Committee
Sponsorship Committee
Women of Themis Committee 

        

Construction Defect Practice Group




EPL Practice Group




General Liability Practice Group




Product Liability Practice Group




Professional Liability Practice Group


Transportation Practice Group



Interested in joining a committee or practice group? Email Themis Headquarters.
---
 Thank You to Our Valued Sponsors!
Platinum Sponsors

     

     
   
      
       
 
 
 
       
 
                  
 
 
 

Gold Sponsor

     
    
         
 
 
 
        
 
     
Themis Advocates Group
3601 East Joppa Road, Baltimore, MD 21234
[email protected]
www.themisadvocatesgroup.com
© Copyright 2021  Themis Advocates Group