Jeannine Davanzo and Krystina Maola obtain Summary Judgment in Products Liability case in Kings County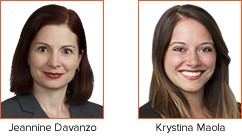 (FEBRUARY 4, 2021) - Following six years of contentious litigation, Jeannine Davanzo and Krystina Maola, obtain summary judgment in favor of GVK's client, a healthcare products manufacturer, in a products liability and negligence lawsuit filed in Kings County, New York. The plaintiff alleged that he sustained injuries after he slipped and fell on water he claimed was emanating from the client's ultrasonic cleaner during his employment at a hospital. The cleaner had undergone routine preventative maintenance pursuant to a contract with the plaintiff's employer approximately one month prior to the plaintiff's alleged accident, which showed no water leaking or other issues.
The plaintiff testified that while performing his work, he would spill or drip water onto the floor. He also testified that the water that allegedly caused his accident could have originated from other cleaners and/or sinks in the room where he worked. Additionally, the plaintiff admitted that he had seen water on the floor on multiple occasions prior to his accident and would mop it himself and report it to his supervisor, neither of which he did on the date of his accident.
GVK's attorneys moved for summary judgment on several grounds, including that plaintiff could not establish the client's product was defective in any way and that the client did not owe a duty to the plaintiff as a non-contracting third party, negating the required element for a negligence claim. In opposition, the plaintiff argued that the manufacturer of the cleaner owed a duty to him under the exceptions set forth in Espinal v. Melville Contrs., 90 N.Y.2d 136 (2002).
The court rejected the plaintiff's argument, determining that there was no proof in the record to support the plaintiff's products liability claim. The court also determined that the plaintiff's negligence claim failed because the plaintiff did not allege any of the exceptions pursuant to Espinal that might give rise to a duty to plaintiff on the part of the manufacturer of the cleaner in his pleadings. The first time the plaintiff raised any of these arguments was in opposition to the motion for summary judgment. The court further agreed with defendant that since the plaintiff did not plead the exceptions in his Complaint or Bill of Particulars as required, dismissal of the Complaint was appropriate. The case was dismissed in its entirety and plaintiff has not appealed. - (Gallo Vitucci Klar LLP)