Human Fatigue Risk Management in Workplace Settings: Implications for Litigation
Chason J. Coelho, Ph.D., CSP, CFI
Exponent | Senior Managing Scientist | Human Factors
15375 SE 30th Place, Suite 250, Bellevue, WA 98007
[email protected]
Sunil D. Lakhiani, Ph.D., P.E., CSP
Exponent | Managing Engineer | Human Factors
4580 Weaver Parkway, Suite 100, Warrenville, Illinois 60555
[email protected]
Delmar R. "Trey" Morrison, III, Ph.D., P.E., CCPSC, FAIChE, CFEI
Exponent | Principal Engineer | Thermal Sciences
4580 Weaver Parkway, Suite 100, Warrenville, Illinois 60555
[email protected]
Introduction
Human fatigue is a peculiar issue for workplace safety and risk management. Scientific and industry literature has linked fatigue to adverse health and performance effects, but organizations, individuals, and regulators alike have struggled to manage fatigue risks. Here we describe several challenges of fatigue risk management and review a new approach being adopted: the fatigue risk management system (FRMS). We also point out that as the FRMS sees more widespread adoption, companies are starting to face a new fatigue-related challenge – legal liability related to fatigue management.
A brief review of fatigue is given below. An example of a high-profile industrial incident involving fatigue follows, with relevant statistics, some specific challenges of fatigue management, historical context, and implications for litigation noted thereafter.
Human Fatigue
Fatigue is a state of reduced mental or physical performance capability that results from sleep loss, circadian challenge, difficult task factors, or a combination thereof [1, 2]. Figure 1 illustrates that mental and physical fatigue serve as a link between fatigue hazards (e.g., long commutes, shiftwork, etc.) and accidents.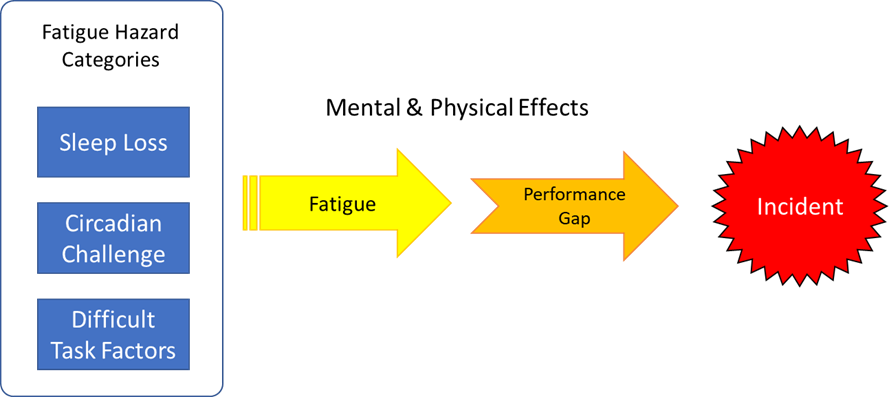 Figure 1. Fatigue-related incident event chain – adapted from Coelho et al. (2019)
A high-profile incident involving fatigue entailed an explosion and subsequent fire at the BP Texas City Refinery in 2005; fifteen people perished, and 180 were injured [3]. An investigation by the U.S. Chemical Safety and Hazard Investigation Board found that the board operator had worked 12-hour shifts for at least 29 consecutive days, and the report suggested that fatigue-related human error contributed to the incident [3]. The company had neither a corporate nor a site-specific fatigue-prevention policy at that time, and its contract with the labor union specified a minimum number of work hours each week but not a maximum [3]. This incident directly led to significant fines, settlements, business interruption, and corporate governance changes for BP. Fatigue played a part.
Research has statistically linked workplace fatigue and workplace fatalities and injuries. For example, one study reported that of the approximate 360,000 fatalities and 960,000 injuries that occur in workplaces worldwide each year, about 13% can be attributed to fatigue in some way [4]. It also appears that almost one quarter of the U.S. adult population experiences significant sleep problems [4]. Reduced sleep and longer work hours are associated with greater injury risk [5], and nighttime workers are almost three times more likely to be injured than daytime workers [6]. Jobs that require overtime are also associated with a 61% higher injury rate compared to jobs without overtime [7].
Other research suggests that these statistics are linked to poor human performance. A meta-analysis showed that fatigue can make people perform worse than 90% of rested people on various tasks [8]. Fatigue-related performance impairments can include slower reaction-time, divided-attention, and poor memory recall, which are similar to the performance deficits resulting from alcohol intoxication [9]. Fatigue can also impair judgment, planning, learning, and situation awareness [10]. It is perhaps unsurprising, then, that industrial organizations are becoming more and more interested in developing programs for managing fatigue.
Managing Fatigue
Managing fatigue has proven challenging for several reasons. Fatigue is quite common [11], and individuals can struggle to accurately assess their own fatigue levels [12]. There are many potential work-based fatigue hazards, including, but certainly not limited to:
Long shifts
Stress
Overtime
Work-related worry
Monotonous tasks
Poor ergonomics
Performance milestones
Indeed, the sheer number of fatigue hazards may make it difficult for organizations with little or no experience in fatigue management to properly identify, mitigate, and control the risk associated with all the hazards. Another challenge that makes fatigue a somewhat unique workplace hazard is that fatigue-inducing activities and demands may arise outside the workplace. Employees can arrive at the workplace already fatigued from dealing with commutes, children, sleep disorders, or other daily life issues.
Industry- and site-specific facility and operational features can pose unique fatigue risks. For example, some industries such as oil and gas extraction can require remote operations, and it can be common to see schedules with runs of 14 contiguous days entailing 12-hour shifts. Attempts to hold organizations responsible for evaluating and controlling industry-, facility- and operations-specific risks may become more frequent as scientific and industry literature on fatigue management continues to grow.
Traditional Approach to Fatigue Management
Individuals, companies, and regulators have traditionally relied on prescriptive methods, such as imposing on-duty limitations [13]. Two common prescriptions are hours-of-service restrictions and minimum rest breaks. Prescriptions can be helpful in limiting some fatigue risk; however, stakeholders across industries are realizing that theses prescriptions do not commonly or specifically limit worker exposure to fatigue risks associated with typical human sleep patterns, duty cycles, and non-work-related time [13]. To address these sometimes unique and variable risks, organizations and regulators have been turning to more formal fatigue risk management practices.
Fatigue Risk Management System (FRMS)
The FRMS is a risk-based approach being adopted in many industries to monitor and manage fatigue-related safety risks. These industries include, but are not limited to, aviation, commercial driving, rail, nuclear, and oil and gas. The FRMS takes a traditional safety management system (SMS) approach, which includes four basic components: policy, risk management (i.e., hazard identification, risk assessment, and risk mitigation), assurance (e.g., auditing), and promotion (e.g., internal communication and training).
Whereas an SMS addresses many workplace hazards, an FRMS specifically addresses fatigue-related hazards. It then relies on scientific principles and operational experience to help personnel mitigate fatigue risk and work with proper alertness [1]. Different FRMS versions exist across industries, but most versions entail the following elements:
Introductory materials that convey purpose, objectives, scope, and accountability;
Policy statements that convey organizational commitment;
Scientific information on sleep, fatigue, and fatigue countermeasures;
Fatigue risk-assessment (FRA) and countermeasure procedures and guidance;
Assurance and continuous-improvement procedures and guidance;
Fatigue awareness and training; and
Implementation and communication plans.
Recent research has provided evidence that such fatigue management initiatives may be helping [14]. For example, data from 70 companies across a range of industries were analyzed to assess the relations between self-reported fleet safety management practices and motor vehicle collision and injury metrics. Results indicated that the presence and practice of fatigue risk management and mitigation policies and practices predicted lower injuries per million miles traveled [14].
A Practical Approach
We have been helping clients meet fatigue management challenges by providing practical guidance on (a) developing an FRMS, (b) efficiently integrating it with the existing company SMS to save on effort, and (c) assessing whether fatigue contributed to an incident within its incident investigation and root cause analysis protocols.
We have specifically focused on a core FRMS component – the fatigue risk assessment (FRA). Respecting that it helps to have relatable and practical ways to conduct FRAs, one type of FRA for which we have advocated is strategically designed to mirror an existing risk assessment process that is already well known to many safety professionals. This FRA process is designed to (a) identify situations where fatigue may pose hazards, (b) assess the risks presented by those fatigue hazards, (c) note existing countermeasures, and (d) decide whether those countermeasures are adequate or whether additional ones are required to mitigate or control the fatigue risk. The FRA process therefore offers a systematic method for understanding the precursors to human error in incident scenarios. Such a process can be used by organizations to start addressing fatigue and, in turn, potentially reducing the liability of not addressing it. This approach can also be applied to evaluate factors related to human fatigue that may have contributed to an incident.
As alluded to above, another component of our fatigue-related work has focused on supporting clients who are alleged to have not adequately addressed fatigue through management oversight. Such allegations are typically connected to incidents involving serious injury or fatality. Claims are likely to be that the behavior of an employee was a proximate cause of the incident, and that the behavior was driven by fatigue, which, in turn, resulted from poor organizational oversight of the employee.
One approach to this type of situation is to first review applicable company standards, policies, and other administrative controls (SPAC), such as those directly addressing journey and fatigue risk management. Also important to assess are relevant regulatory and industry consensus standards. Some industries have regulatory standards that clearly apply, such as the (a) Federal Aviation Administration (FAA) regulations in commercial and general aviation, (b) Federal Motor Carriers Safety Administration (FMCSA) regulations in commercial trucking, and (c) Pipeline and Hazardous Materials Safety Administration (PHMSA) regulations in gas control room operations. In some cases, however, no such regulatory oversight is applicable, and instead voluntary consensus standards should be considered as references; context is especially important here, and care should be taken to understand that these consensus standards can exist in varying stages of maturity and visibility to industry stakeholders. In turn, these points have implications for what can be expected of a reasonable company given the constraints and common patterns of practice in its industry.
Closing Remarks
Whether and how these issues are brought to bear inevitably depends on the specifics of the case at hand. One thing is relatively certain, however: questions will not only be asked about whether regulatory prescriptions were satisfied but also about whether and how the conduct of the company accorded with literature on the emerging reference for fatigue risk management in workplace settings – the FRMS. Moreover, it is reasonable to expect the frequency of these sorts of questions to increase as this literature continues to develop.
References
[1]            "Fatigue-Risk Management Systems (FRMS): Implementation Guide for Operators," ICAO / IATA / IFALPA, 1st Ed., 2011.
[2]            American Petroleum Institute, "API Recommended Practice 755. Fatigue Risk Management Systems for Personnel in the Refining and Petrochemical Industries." Report No. 2005-04-I-TX, API, Houston, Tex. (2010).
[3]            U.S. Chemical Safety and Hazard Investigation Board. "Investigation Report, Refinery Explosion and Fire," CSB, 2007.
[4]            Uehli, K., et al., "Sleep Problems and Work Injuries: A Systematic Review and Meta-analysis." Sleep Medicine Reviews, 18(1), pp. 61-73 (2014).
[5]            Lombardi, D.A., "Weekly Working Hours, and Risk of Work-related Injury: US National Health Interview Survey (2004–2008)." Chronobiology International, 27(5), pp. 1013-1030 (2010).
[6]            Swaen, G.M.H., et al., "Fatigue as a Risk Factor for Being Injured in an Occupational Accident: Results from the Maastricht Cohort Study." Occupational and Environmental Medicine, 60 Suppl 1, pp. i88–i92 (2003).
[7]            Dembe, A.E., et al., "The Impact of Overtime and Long Work Hours on Occupational Injuries and Illnesses: New Evidence from the United States. Occupational and Environmental Medicine," 62(9), pp. 588-597 (2005).
[8]            Pilcher, J.J. and A.I. Huffcutt, "Effects of Sleep Deprivation on Performance: A Meta-analysis." Sleep, 19(4), pp. 318-326 (1996).
[9]            Roehrs, T., et al., "Ethanol and Sleep Loss: A 'Dose' Comparison of Impairing Effects." Sleep, 26(8), pp. 981-985 (2003).
[10]        Wickens, C.D., "An Introduction to Human Factors Engineering." Pearson Prentice Hall, Upper Saddle River, N.J. (1998).
[11]        Bonnet, M.H. and D.L. Arand, "We Are Chronically Sleep Deprived," Sleep, 18, pp. 908-911 (1995).
[12]        Lerman, S.E., et al., "Fatigue Risk Management in the Workplace." Journal of Occupational and Environmental Medicine, 54(2), pp. 231-258 (2012).
[13]        Gander, P., et al., "Fatigue Risk Management: Organizational Factors at the Regulatory and Industry/Company Level," Accident Analysis & Prevention, 43(2), pp. 573-590 (2011).
[14]        Vivoda, J.M., Pratt, S.G., and Gilles, S.J. "The relationships among roadway safety management practices, collision rates, and injury rates within company fleets," Safety Science, 120, pp. 589-602.