A Picture is Worth a Thousand Words: Discussion of Strategies to Move for Summary Judgment in a Premises Liability Case in Florida
November 2022 • Source: Frank Canales, Baumann, Gant and Keeley, P.A.
Revised and Edited: Gary Baumann, Brendan Keeley, and Jerry Biondi, Baumann, Gant and Keeley, P.A.
It is never easy to evaluate a case's exposure where an elderly Plaintiff with prior neck surgeries is re-injured, allegedly as result of my client's negligence.  The damages and injuries are presumptively in favor of the "eggshell" Plaintiff. Picking up a file with half of the battle lost may be daunting. But, if fault is in your favor, I recommend applying a narrow approach in discovery, writing succinctly, and connecting with the audience to obtain a positive result for your clients. This note will discuss strategies to fight back on the element of fault in a premises liability case.
In Florida, the pure comparative fault standard allows for claims to proceed to trial notwithstanding a plaintiff who is largely at fault. For example, taking a plaintiff as described above, the amount of recovery may be significant even when my defendant client is deemed to be 5% at fault. Thus, prevailing in a summary judgment motion in a premises liability case in Florida is worth analyzing, especially if your motion was only supported by Plaintiff's own testimony and a picture of the alleged dangerous condition—here, it was a platform built with cinderblocks and wood boards.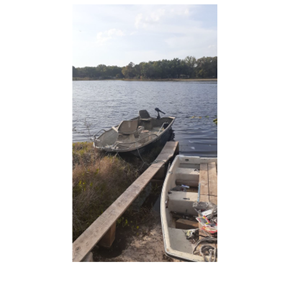 The subject dangerous condition
Narrow Discovery and Succinct Writing Strategy
The facts are simple. Plaintiff went on a boat trip, stepped on the platform built by a tenant at my client's property, took several steps, and fell to the side. She re-injured her neck. In this eggshell Plaintiff case, I initially sought to obtain records, statements, and depositions of all potential fact witnesses to corroborate the alleged fall. However, after some thought, this strategy would only increase the costs of defense and would be counterproductive for my motion for summary strategy that was early discussed in the case with the adjuster. So, I proceeded to give her the benefit of the doubt that the fall occurred, that my client had knowledge of the dangerous condition, and that it had been in place for many months.
It may be the instinct of many lawyers to bombard a jury with all the favorable evidence. An overkill approach—or gilding the lily--is unwise. The same is true when filing for a motion for summary judgment, surgical precision in the facts is essential. Thus, while a complete and thorough investigation of fault is absolutely necessary to prepare for trial, this strategy only opens up avenues of attack and rebuttal at a motion for summary judgment juncture. Sometimes the best strategy is to use the words of Plaintiff against her.
After completing substantial legal research and receiving several cancellations from the Plaintiff of my client's deposition and the tenant at my client's property that built the subject platform, I decided to file for summary judgment with only three pieces of supporting evidence: 1) Plaintiff's lease agreement with my client, 2) Plaintiff's deposition, and 3) the picture of the platform. While several witness statements in our favor were obtained, including my client's words, I deliberately decided to not include them in the motion to foreclose Plaintiff's opportunity of further rebuttal discovery and to narrow the issues in front of the court to our strongest summary judgment issue. Here, it was Florida's Open and Obvious Danger Doctrine.
Connecting with Your Audience
While I didn't emphasize the age of the Plaintiff in my motion, in preparation of the summary judgment hearing, I started to think about railroad cases and attractive nuisance cases as potential arguments against my position. So, at the hearing, I emphasized the age of the Plaintiff and preexisting injuries to show both that the Plaintiff's age and maturity showed conscious decision making and that she should have taken necessary precautions to avoid getting injured from dangerous activity of stepping and walking on wood boards that were supported by cinderblocks. Of course, the picture of the dangerous condition was compelling, too. The judge agreed at the summary judgment hearing:
"summary judgement has its place. And in this case, this is one of them. There is just no way that any reasonable person -- this -- this thing is so open and obvious that there is no way that any reasonable person would get on there and not wonder if they were in peril…I wasn't sure of the age of [] the plaintiff, but I know at my age, when I look at that thing, I'm thinking there isn't any way I'm going to get on -- step on that thing. Not any way in heck. I will get my shoes muddy before I will walk on that. That's just crazy. That's just crazy. That's silly…
…I mean, to me, what came to mind was, you know, I wonder if this plaintiff would []see a tree fort somewhere 30 feet above the ground and think that was okay too."
From the bench, the court ruled that Florida's Open and Obvious Doctrine entitled my client to a full summary judgment in this premises liability case. Obtaining a favorable ruling and saving the client's thousands of dollars in expert discovery should motivate more defense lawyers to push for early motions for summary judgments and to fight back in cases where the evidence shows that a Plaintiff is significantly at fault—even if the motion is for partial summary judgment.